Turn onto Crystal Lake Ave heading west off of IL-31. After 1 mile, turn right onto Erick Street. Serv-All is the first industrial building on your left, at the intersection of Erick and Prairie Street.
Serv-All Die & Tool Company was started in 1945 by Thomas Groden, Bert Brogren, Lee Larson, and Art Schramm in the old Meier Dairy building in Crystal Lake, IL. It was a difficult task securing equipment when the nation was at war, but they were able to get the shop underway on a small scale. Later, the scope of production was able to increase with the war ending and conditions showing a steady improvement. We built die-cast dies and bakelite moulds for components in radios for one of our first customers, Motorola, located nearby. Soon after, because of demand, Serv-All bought our first die casting machine and started casting. Eventually, Tom Groden became the sole owner and the family owns and runs the business to this day. Over the years, Serv-All has continued to grow and expand into larger facilities.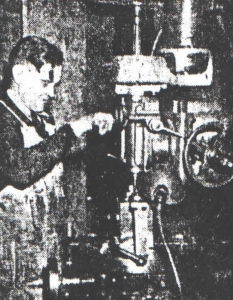 The long standing family tradition is carried on today, with Serv-All on its 3rd generation of family ownership. We continue with our dedication to improve and be a world class manufacturer with vision, perseverance, and uncompromising commitment to high standards of doing business. This story continues 70 years later with a focus to anticipate and satisfy the ever-changing needs of our customers, who expect the very best.
"Today, the company remains strong and continues to grow. It has strong financials and a strong leadership team at all levels."  -Dan Johnson, President